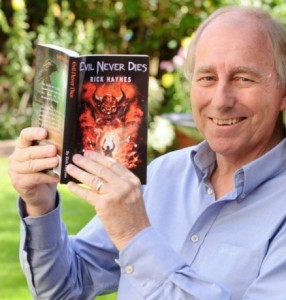 As a follow on to my introduction post about the ART authors (see footnote re ART), I'd like to give you a bit more of an insight into the writing of Rick Haynes. As you can see from his Amazon Author Page, Rick has published quite a range of work but I'd like to share the blurb and the prologue from book #1 of his Maxilla Tales, Evil Never Dies.
---
The Blurb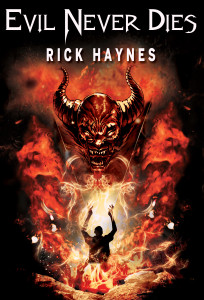 The Maxilla are a peaceful clan but can they survive the latest threat from Myracadonis, the shaman? Tarn is ordered to lead the Maxilla into battle for the first time, but a man with the mark of greatness will always have enemies. Grona hates everyone, including his son, Tarn. Both men are destined to be heroes yet only one can stand before the gates of hell and win.
The gods are always watching, but whose side will they ultimately favour?
The Prologue
The mountains formed after the lands had been covered in fire, lava and ash. Ice had shaped valleys and the wind and rain had scoured the summits into jagged peaks. Immune to any hardship and interference, only the gods lived in such desolate places. From their lofty domain they looked down on the world of man.
On the lower slope of Mount Soar, a vast number of caves ran through the mountain. Deep and gloomy they served as scant protection for the few animals that dared to wander so high and as a refuge for the seldom seen humans.
Two men sat around a blazing fire in one of the upper caves. A copper pot boiled. One stirred the contents, looking hopeful that the meat would soon be cooked. He shivered constantly, his hand automatically stirring faster.
Long dark clothes swathed the other. A wide-brimmed floppy hat obscured his thin bony face, weathered by time. Yet everything about him was illusory, for he could sit naked in a snow drift and be unconcerned, whereas his companion would freeze in an instant without his help.
He loved the entertainment; humans were usually predictable, yet some could still surprise him. But he had learnt that the body of a frail old man always yielded the best results.
"What is your name, human?"
"Ernon … the lame. What should I call you … lord?"
"You, my cold friend … you may call me Titian. So, tell me what you want."
"I want power, to control them and take my revenge."
"Really?"
"Yes my lord. I have studied the dark side of magic and can readily proceed with the ten incantations."
"Yes! Yes! Admittedly, you have a talent for cruelty and minor magic otherwise you would not be sitting here, but are you ready to give up many years of your life to learn the secrets of the dark arts? The teaching never ceases, for as you learn you move on to the next level of understanding. But remember, if you fail, death is inevitable."
Looking at the frailty of the man stirring a hot stew did not fill Titian with any great confidence, but the mortal's eager nod swayed him.
"You will endure pain unlike any other as your mind is exposed and altered. Your body will shrink and grow as I deem fit. At some point you will fall on your knees and beg to die. By then, it will be too late. The gods will own you body and soul, and only they, will allow your demise. This is the point of no return, Ernon. Take it … or maybe freeze."
---
Exciting stuff, eh? Why not treat yourself and grab a copy of Evil Never Dies?
---
ART – Authors and Readers Together
ART is a banner under which a group of like-minded authors are working collaboratively with their readers to create stories designed to entertain, enchant and amaze. I'll be using this logo on all ART related posts so keep your eyes peeled.
---