So I search endlessly, prowling searching for the one who shall be mine, at least for the night!
I'm not too fussy, blonde, black, red head or brunette.
Even had a close shave, Gillette, the best a man can get.
I arrive at the club, it's ostentatious and loud. She stands there swaying around to the awful sounds and I am mesmerized.
I walk up beside her strut my stuff as she looks at me with utter disgust.
My rotting sheered flesh, my putrid stench and my tattered clothes.
ZOMBIE! She shouts.
What's the matter baby? I'd eat you alive.
---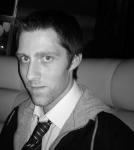 C.S. Bailey
Author of Maybe, Misery. Find out more about him at his wonderful Alternate Hellos Blog.
---
Read the next drabble – Undercover