The world's media had descended on Newcastle University, England. The main hall was packed to the rafters as Professor Johnson and his team unveiled 'Kristina', the world's first sentient robot.
After Kristina had introduced herself, the professor invited questions from the media.
"Professor, Dan Oliver of KQXL TV, Chicago. Kristina is obviously female, but how female is she?"
"Kristina is anatomically perfect. She is fully capable of a sexual relationship. One of my team has made advances to her on several occasions. To date, her response has been consistent."
"And that response is?"
"Not tonight, pet. I've got a headache."
---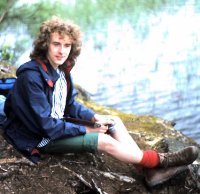 Bryan Scribbler Thomas
Bryan describes himself as a literary pygmy in a land of giants. Don't believe a word he says, instead check out his writing on Amazon.
---
Read the next drabble – Clowns