All of the following publications are available on Amazon. Click on the link/image to be taken straight there.
The 'Ancient magic meets the Internet' Trilogy
Dark Tidings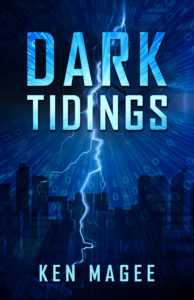 What happens when ancient magic meets the internet? One thing is certain, modern life will never be the same again.
A thousand years ago, a young thief, Tung, and a disgraced wizard, Madrick, are thrust together in an executioner's dungeon. In the darkness, Madrick reveals an incredible secret about a legendary spell. The great spell helps them escape their prison cell… and eventually their century. Catapulted into the present day, their lives collide with Michael, a computer hacker who plans to destroy the world's largest bank. But sinister people are tracking their every move and they will stop at nothing to steal their spell. Dark Tidings is book one of the spellbinding Dark Tidings trilogy and is available from Amazon.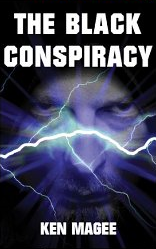 The Black Conspiracy Ancient magic has infected the Internet… is this the end for civilisation?
The ancient magic which transported Tung, a young thief, and Madrick, a has-been wizard, across a millennium has now infected the Internet and civilisation simply can't handle the consequences. To make matters worse, evil wizards have followed the pair through time. They're determined to hunt them down, steal the great magic scroll and use its power to destroy our modern way of life. Saving the world has just got a whole lot harder. The Black Conspiracy is book two of the spellbinding Dark Tidings trilogy and is available from Amazon.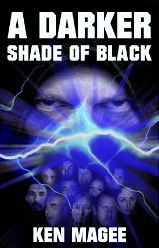 A Darker Shade of Black When ancient magic meets the Internet… and Tequila, bad things will come to pass.
When two inept time-travellers and an Internet genius mix up a cocktail of ancient magic and too much Tequila, disaster is inevitable. To make matters worse, a dark conspiracy which threatens our modern way of life is set in motion when two evil wizards escape from a secure government establishment.  Add in a megalomaniac Transylvanian hermit, seven cloned dwarfs and an Irish giant, and you have to ask 'who's going to save the world now?' A Darker Shade of Black is book three of the spellbinding Dark Tidings trilogy and is available from Amazon.
Anthologies
In this anthology of wonderfully imagined tales we encounter captivating twists and turns, laugh out loud moments and intriguing entertainment from start to finish. The subject matter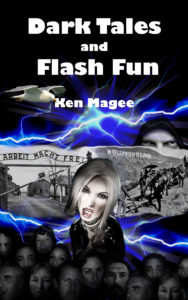 includes demons and vampires, Hollywood and electric chairs… there's even a seasick seagull.
Dark Tales and Flash Fun brings together the author's extensive collection of drabbles (100 word stories) with three of his fascinating and rather disturbing short stories.
Dark Tales and Flash Fiction is available from Amazon, Apple, Barnes & Noble/Nook, Kobo and Scribd.
---
I have also contributed to the a number of anthologies including:
Off the KUF Volume 1 is an anthology of short fiction, guaranteed to appeal to readers of all genres! Whether you're a fan of mysteries, thrillers, historicals, romance, humour, literary fiction, horror or science fiction, Off the KUF will keep you entertained. I contributed a drabble.
Off the KUF Volume 2 features 30 standalone stories, ranging from bite-sized drabbles to multi-part tales. I contributed a short story called CCTV Nightmare.
Chamber of Music features thirteen stories which will take you to distant lands of faerie lords, lovelorn angels, plucky skyship pilots and plague-ravaged scavengers. They will guide you through our dark histories, our heartbreaks, our losses and revenges; our triumphs, escapes, recoveries and redemptions. No matter where, when, or whose story is being told, this collection will inspire and thrill you with the transformative power of music.
Proceeds from sales of the Chamber of Music will be donated to Musicians Without Borders, a global network organization using the power of music for healing and reconciliation in areas torn by war and conflict.